Welcome to our store!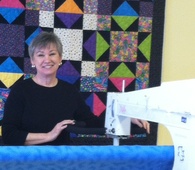 We offer APQS (American Professional Quilting Systems) sales, rentals, service and education. The Intelliquilter Computerized system and Quilt Path are also available. We look forward to meeting you!
Keep up with the latest on our Facebook Page!
https://www.facebook.com/SheridanKayQuilting/



We are traveling to several shows this year!



Next up is Asheville, NC Quilt Show 9/27 - 9/29. 2019 is a great year!

If traveling to demo machines at our Hendersonville studio, please allow us to be prepared by calling ahead.

APQS Road Show date: Saturday 9/14/2019 12:00 - 3:00 This session is intended for those who are interested in purchasing or updating their current APQS. We will demo the different machines and computerized systems.