Welcome to our store!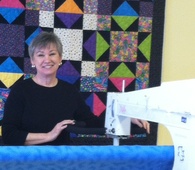 We offer APQS (American Professional Quilting Systems) sales, rentals, service and education.
The Intelliquilter Computerized System is available. Sign up for a personal introduction or join us for classes which are offered quarterly.
Keep up with the latest on our Facebook Page!
https://www.facebook.com/SheridanKayQuilting/
No Shows to attend? Contact us soon for a personal tour.
If traveling to demo machines at our Hendersonville studio, please allow us to be prepared by calling ahead. We wouldn't want to disappoint you if you arrive unannounced!
Holiday Schedule
We will be closed for Thanksgiving 11/25 and reopen on 11/30
Christmas closing 12/24 and reopening 1/4/2022. We look forward to seeing you in 2022!