Welcome to our store!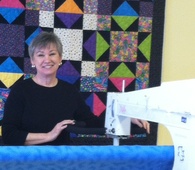 We offer APQS (American Professional Quilting Systems) sales, rentals, service and education.
The Intelliquilter Computerized System is available. Sign up for a personal introduction or join us for classes which are offered quarterly.
Keep up with the latest on our Facebook Page!
https://www.facebook.com/SheridanKayQuilting/
Show and travel schedule for 2020
Road Show Hendersonville, NC 2/22,
Charlotte NC Quilt Show 3/6 - 3/7,
Sewing and Quilting Expo, Atlanta Ga 3/13 - 3/14
AQS Greenville, SC 4/30 - 5/02
If traveling to demo machines at our Hendersonville studio, please allow us to be prepared by calling ahead.