Welcome to our store!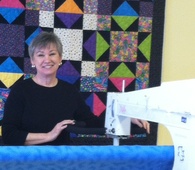 We focus on one thing. Machine quilting is our passion. We offer APQS (American Professional Quilting Systems) sales, rentals, service and education. The Intelliquilter Computerized system and Quilt Path are available also. If you have questions about the latest developments in longarm quilting, need supplies to complete your projects or would like your quilt tops professionally finished, you have come to the right place. We look forward to meeting you!
Keep up with the latest on our Facebook Page!
https://www.facebook.com/SheridanKayQuilting/