APQS
APQS Sales, Service and Education

To view a comparison chart of machines, features and options

click here



Looking for a certified used machine?

Click here



To schedule a visit,

click here

to contact me!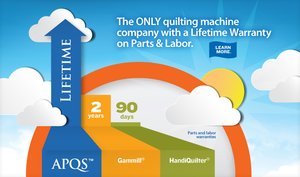 We are proud to be a part of the wonderful family of APQS! We are dedicated to assisting you by providing a public studio for education, growth and personal enjoyment.


Machine Service

Need service on your machine? Call 828-595-2296. We have two techs available to assist you. If you have an older machine that needs updating, call to see how your machine can be updated.

APQS Machine Rental
or
Longarm Mentoring Program


Contact us for scheduling! Our APQS machines are available to rent in our public studio and you will be proud to say you finished your quilt yourself.
The machines are maintained for you so you can concentrate on your creative project. Contact us today to schedule your Renter's Certification Class so you will be on your way to discovering how much fun longarm quilting is. We offer group classes and for a small additional fee, you can have a personal class just for yourself.
Professional assistance is always available while you are in the studio and we answer questions on the phone. Reservations are required.
Renters are required to take the Certification Class and the class fee includes a set of zippers. You will attach the zippers to the backing fabric before you join us in the studio and this saves you time. We will have you quilting sooner and happier. You will be amazed how easy it is to finish your own quilts on an APQS!
We provide you with top thread and we carry a wonderful selection of design boards, pantographs and other tools for use during your quilting session.
Fil-Tec magnetic bobbins are used in our machines and are available for a small fee.
We have a full line of machine quilting notions for long arm, mid arm and home sewing machines. Thread, batting, rulers and notions are for sale and our machine quilting inventory continues to grow!
All quilts should be completed. Sometimes we just want them finished and we don't want to spend as much time or effort to make it happen. That's how "Finished is Good" quilting began. We have 20 different design boards that will have you delighted with the results. Contact us to find out more!
Longarm Mentoring Program
is for individuals with goals of becoming successful at quilting and usually are considering a business in Longarm Quilting. Please contact Sheridan for an interview to discuss your goals. Spaces are limited and not open to all individuals.